15 Jun 2018
By AMICO's Founder – Ami Bauer
Seasonal changes and differing planting requirements in your garden can be an absolute nightmare: especially if you're time poor! Luckily, there's a wide array of stunning, interesting, and hardy plants available to revitalise your garden and keep your world green; we've collected the best outdoor plants for all seasons to make sure your garden paradise is just how you want it, all year-round.
Grey Myrtle
This beautiful small rainforest tree is famed for its timber, bark, and the delightful cinnamon scent of its foliage, with gorgeous calming clusters of cream-coloured flowers blooming in spring. A tolerance for most soil types makes it a wonderful feature tree in your garden as it attracts local bird-life.
Plus, with its preference for full sun to partial shade and the ability to survive light frosts, grey myrtle is perfectly suited to the New South Wales climate all year-round.
Agapanthus Snowball
A compact white dwarf species of Agapanthus, this flowering plant produces gorgeous blooms over a long period, with an abundance of pure white flowers in summer. Its strong, wide, short foliage, and maximum of height of only 60cm (when flowering) makes this plant a wonderful option for bordering your garden, around larger trees, or edging paths and driveways.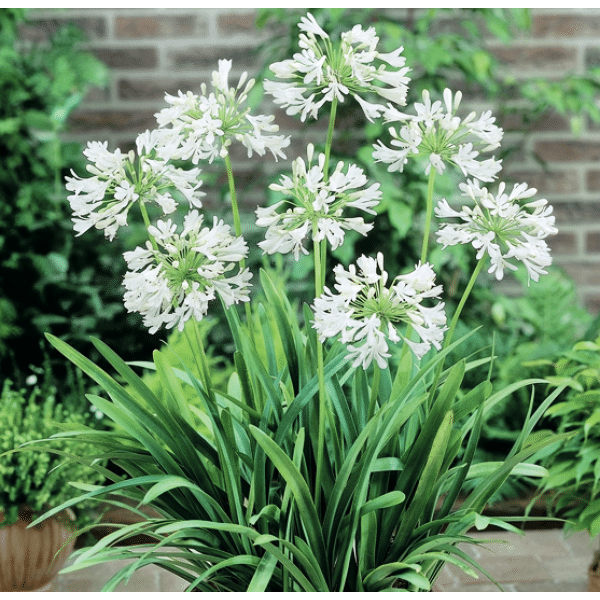 Hardy and easy-to-grow, the Snowball Agapanthus thrives in most conditions and requires minimum maintenance, preferring full sun through to partial shade. An added bonus, Snowball Agapanthus produces very little seed, so it won't run away with your garden!
Kangaroo Paw
This stunning Australian native provides an incredible outdoor feature point, either planted in pots or in a massed display in your garden. With neat, strappy leaves all year, and boasting sunset-orange, paw-shaped flowers from spring to summer, Kangaroo Paws enjoy full sun to partial shade and well-drained, somewhat drier conditions.
Drought-tolerant, Kangaroo Paws promise to attract stunning local bird-life to your garden and can serve well as a bright and interesting border for your garden. As an added bonus, their vivid, eye-catching blooms offer wonderful options for indoor cut flower arrangements.
Azalea 'Alba Magnifica' 
This vigorous, small to medium rounded evergreen shrub is a much-loved plant variety that produces pure white, single blooms with ruffled edges in late spring. A hardy plant once established, Alba Magnifica provides a stunning massed flowering display in your garden.
You can create a free-flowering carpet in garden beds under trees or decorate courtyards and entertaining areas with Alba Magnifica in statement pots. These gorgeous plants prefer dappled sun conditions, but avoid letting them become too exposed, hot, or dry, and they'll provide a cool, refreshing vibe for your garden throughout all seasons.
Hairy Wattle
Another bright and colourful Australian native, the Hairy Wattle provides wonderful options for a formal or informal garden screen, or simply to give shade to the favourite parts of your garden. It's manageable size, growing to between 3-6 metres high and spreading 3-5 metres wide, and dense foliage ensures privacy for your garden.
A low maintenance option, this shrub's ability to resist drought and tolerate a light frost, and its adaptability to a range of seasonal weather variations make it a perfect outdoor plant for all seasons. The Hairy Wattle prefers sunny, dry conditions and rewards its owners with a profusion of gorgeous golden blooms every spring.
To see some of the wonderful ways in which Amico's expert horticulturalist can use these and other beautiful all-season plants to beautify your home, look at our project gallery! Here, you can get some idea of the wide array of gorgeous gardens we've helped to create over the years.
If you'd like to hear more about what we can do for you and the gardening services we offer to our Sydney customers, get in touch with us for our advice and ask for your personalised quote.