Fast and Efficient
Whether you're looking for general gardening maintenance, or a way to spruce up your space with landscape design, Amico's professional staff will help make to most of your outdoor spaces.
Our gardening services Maroubra team is dedicated to providing thorough lawn and garden maintenance which includes speedy initial quotes and in-depth horticultural analysis of the garden.
Our Garden Maintenance Approach
Amico gather highly skilled specialists to form a comprehensive garden maintenance team, ensuring all your garden needs are met efficiently and to the absolute highest standard.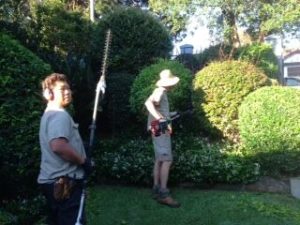 After each visit from our expert lawn and garden maintenance teams you'll receive a detailed 'Garden Management Report'. This report will show you what has been completed, and provide ongoing maintenance advice, as well as let you know what to expect during our next visit.
Your dedicated Amico garden maintenance team in Maroubra are there to improve your garden and help you care for it into the future.
Lawn and Garden Maintenance Services
Our comprehensive range of gardening services encompasses every aspect of lawn and garden maintenance needed to allow your garden to thrive. We cover soil nutrition, threat control, general trimming, cleaning services, and many other services to ensure your garden becomes the oasis you've always dreamed of.
Lawn Mowing and Edging
Our gardening specialists are equipped to tackle the wildest lawns and gardens and tame them into tidy, pleasant landscapes.
Pruning
Pruning is essential to grow healthy trees and shrubs and encourage flowering.
Weeding and Trimming
To make the most of your garden plants, trees, and shrubs, Amico gardening specialists will exhaustively rid the landscape of any unwanted or damaging weeds.
Fertilising, Mulching & Soil Conditioning
Nutrient-rich soil is the key to a beautiful garden and Amico's landscape maintenance teams come fully equipped to give your garden the food it needs.
Pest Control
Whether your plot produce has fallen victim to slugs or your plant roots have been affected by worms, Amico has a range of pest control options and techniques that will remove the problem without damaging plant life or the natural ecosystem.
Rubbish Removal
Fallen leaves, stray litter, forgotten toys: gardens accumulate rubbish over time. Our teams will rid your landscape of unsightly scraps and have it looking fresh and tidy in no time.
General Cleaning
If time, use and weather has taken its toll on your surroundings, our Amico specialists will give your garden or landscape a comprehensive general clean that will leave your space feeling fresh and beautiful.
Speak to a garden maintenance professional in Maroubra like Amico. We'll work with you to maintain your garden and make your landscape dreams a reality.
Tel: 1300-GARDEN (1300- 427 336)