A Local Solution for Your Garden
Based in the Eastern Suburbs, Amico have over twenty years' experience in providing quality gardening services to Bondi and Sydney's residents. We'are known for our efficient and reliable service, and our skill in helping customers achieve the landscape they're searching for.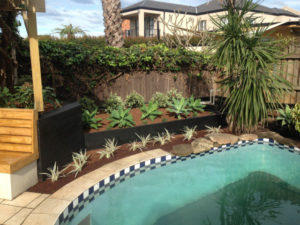 We will personalise our approach to you to create the greenery that works best for your space and your needs, regardless of whether it's a commercial area or your personal home.
Professional Teams, Personalised Gardens
Our decades of experience in Sydney's Eastern Suburbs means we're familiar with the area, and we're close by. Upon receiving your call, our expert team of horticulturists will soon arrive to analyse your landscape and provide a quote for our services. Our unique team-based approach to gardening services Bondi means that we can work quickly and efficiently to ensure the transformation of your space is tailored to you, and completed to the highest standard.
The Perfect Management Team for Your Garden
Our Amico landscape and gardening experts are highly qualified and extremely knowledgeable, so we're very well-suited to provide the services you require to develop your landscape into a personal oasis.
We understand every space and every garden vision is unique, and we will work closely with you to understand your every gardening need and ensure we're fulfilling them. To do so, we first conduct a thorough horticultural analysis of your landscape and discuss our findings to provide an immediate, detailed quote. To provide the people and skills best-suited for your requirements, we then use our assessments to assemble a customised team of skilled specialists for your garden.
To help keep you aware of how your garden is being developed, we'll provide a detailed 'Garden Management Report' every time our lawn and garden maintenance teams visit. We'll explain which gardening services we've completed, advice on how best to maintain your green space, and a schedule for follow-up visits and ongoing development.
Regardless of whether you're looking to transform a large commercial space or a tiny home garden, our Amico specialists are dedicated to helping you to fulfil your gardening needs.
Our Maintenance Services for Your Garden and Landscape
Our range of lawn and garden maintenance services incorporate every aspect of horticultural development you may need, from general maintenance through to plant health and soil revitalisation. No matter what you need, our range of services will help you achieve the garden of your dreams.
Our services include:
Lawn mowing and edging,
Pruning,
Weeding and trimming,
Fertilising, mulching, and soil conditioning,
Pest control,
Rubbish removal, and
General cleaning.
Call Amico Today
If you're based in Bondi and you're looking to tend or transform your garden, landscape, or green space, then contact Amico today at 1300-GARDEN (1300- 427 336) and speak to our team of gardening professionals.